Welcome! Bienvenue! Benvenuto!
General Medicine
Internal Medicine
Infectious Diseases
Schleswiger Strasse 24-26
D-27568 Bremerhaven-Mitte
Tel 0471 417073
Fax 0471 412569
Email info@praxis-bremerhaven-mitte.de
Appointment consultation hours
mo 8-13 und 15-17 Uhr
di 8-12 und 14-16 Uhr
mi 8-13 Uhr
do 8-13 und 15-17 Uhr
fr 8-13 und 15-16 Uhr
Open consultation hours (acute illness without signs of infection) daily from 9.30 - 11 a.m.
Infection consultation hours daily from 11.30 a.m. to 12.30 p.m. on mon and thurs. Tues, wedn and frid from 11 a.m. to 12 noon)
Order a prescription online
Dear patients! In the following we give some information on our practice workflow:
Please note: With an infection (cough, fever, etc.) please come to the infection consultation from 11:30 (without appointment). Wearing a FFP2-mask remains mandatory for patients with an infection.
We are sometimes difficult to reach by phone. If there is a possibility to write an email, feel free to write to us at info[at]praxis-bremerhaven-mitte.de with your request (also appointment requests, prescriptions needed, etc.). We will get back to you as soon as possible.
Please pick up prescriptions perferably in the afternoon to avoid unnecessary waiting time.
We perform Corona vaccinations with the new adapted vaccine from Biontech/Pfizer. Please make an appointment to discuss this first.
We offer an acute consultation without an appointment (see hours above). Please understand that patients with an appointment will be called with priority.
We protect and maintain your health.
We develop a holistic therapy approach together with you in case of physical and mental illnesses.
In the case of complex disease, we refer you to specialists and keep the oversite for you.
We treat every person with respect and appreciation.
Talk to us (German/English/Italian/French).
We listen.
We are experienced internal medicine specialists.
The basis of our medical action is a detailed examination.
Certain preventive measures can also be helpful.
We are diagnostically and therapeutically up to date.
Ultrasound, cardiovascular diagnostics and laboratory tests are carried out in our practice.
We regularly attend further training
Dr. Steiner holds a speciality recognition for infectious diseases, she is a specialist for HIV, viral hepatitis and sexually transmitted diseases.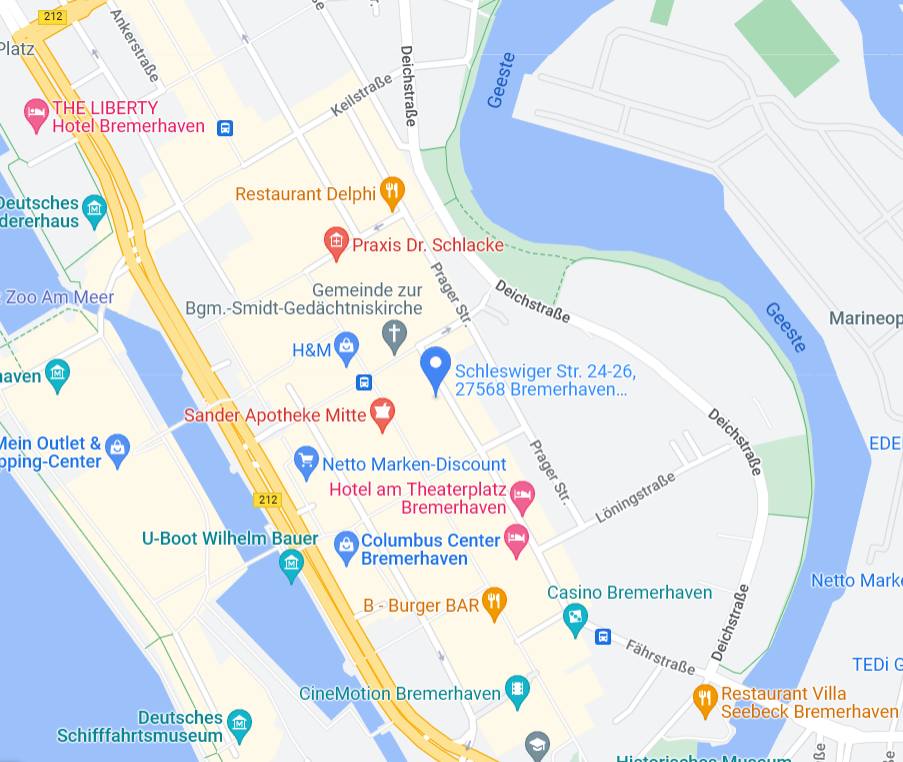 Dr. med. univ. Kathrin Lührßen
Specialist in internal medicine
Dr. med. Birthe Steiner
Specialist in internal medicine
Infektious diseases
Schleswiger Str. 24 - 26
D- 27568 Bremerhaven Mitte
Tel. 0471 417073
Fax. 0471 412569
Email. info@praxis-bremerhaven-mitte.de
Appointment consultation hourS
mo 8-13 15-17 h
tu 8-12 14-16 h
we 8-13 h
thu 8-13 15-17 h
fr 8-13 15-16 h
Open consultation hours (acute illness without signs of infection) daily from 9.30 - 11 a.m.
Infection consultation hours daily from 11.30 a.m. to 12.30 p.m. on mon and thurs. Tues, wedn and frid from 11 a.m. to 12 noon)